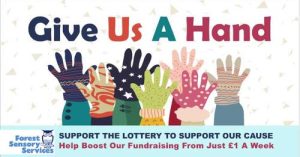 We are now registered with the Forest Lottery! You can help our fundraising by signing up to play and have the chance of winning £25,000 each week. Each ticket is £1 and 50p of this goes directly to us when you select Forest Sensory Services as your chosen good cause. Click on the link below to play.
Support Forest Sensory Services when you play Forest Lottery – Forest Lottery
SPRING NEWSLETTER 2023.
The clocks have gone forward and spring is on its way, we thought it was time to give you all some nice things to look forward to. For continuity, the trustees have taken the decision to allow Vicki and Natalie to fulfil the managerial role temporarily. As most of you are aware Robyn took the decision to leave F.S.S and return to audiology. We understand that this may be a shock as Jackie only took her much-deserved retirement at Christmas, however, she has returned as a volunteer for the foreseeable future. See, Jackie couldn't stay away!
OUTREACH.
We are currently rebuilding the outreach sessions which will take place within the community, on an alternative monthly basis. During the visits we can retube hearing aids, do equipment demonstrations, and offer general sight and hearing loss advice. We hope you will come and support us. If you attend any social groups i.e. church groups, lunch clubs etc. we would love to come along and discuss what FSS does. So please forward on our details onto the organisation.
Current outreach sessions
Sedbury space May 2nd 10.30 – 12.30
Lydney
Hipps Social April 24th
June 26th 9.30- 11.30
EMERGENCY CONTACTS.
Can you please ensure that we have all of your emergency contacts up to date? This is important and is a legal requirement for anybody who attends FSS. We will also be asking anyone who attends FSS to complete a health and safety form relating to your personal needs. This will be done by a staff member and will be kept confidential.
FOREST LOTTERY Unfortunately, we have taken the decision to no longer run the 200 club the last one will be drawn in April. To replace this we have joined the forest lottery. It is £1 per week, paid by a monthly direct debit and 50p from each ticket comes to FSS. This gives you the chance to win up to £25,000 and many other prizes . To join please go to www.forestlottery.co.uk. If you are unable to, we can set it up on your behalf.
KINGS CORONATION
We will be holding a celebration for you all at F.S.S. This will include cakes and a BBQ (outdoor weather depending). There will be singing and dancing. Let us know if you would like to join us on the 9th of May at 12pm. Don't forget to wear clothes fit for a King!
OWLS
OWLS went to visit the Cotswold Wildlife park last weekend. The members enjoyed their
day out. We would like to thank Linda who volunteered to help support our clients. The new agenda of OWLS activities are also being added on to the monthly calendar. If you are working age and wish to join us on our monthly activities, please let us know
TITANIC the musical
On July 15th we will be going to the everyman theatre to see Titanic the Musical. The cost is £25 which covers the cost of the ticket and transport. There are spaces still available. If you would like to attend, please let us know by the 27th of April.
Client Representative
Dear friends, members, and volunteers. Just a quick hello from Dave warner, Amy Creed and
Anthony Wheeler, we are your client reps. We just want to reassure you all that we have a new team in place, and we are all willing to support you, alongside Vicki and Natalie.
Leaflet distributors
We are looking for people to push FSS leaflets through doors. If you have some spare time and
are willing to distribute leaflets in your area. We feel this is a good way to advertise FSS. And to inform people of what we offer.
Client questionnaire Over the next few weeks, you will receive a phone call from one of our volunteers. The reason for this is to ask you a few questions about FSS. By you participating it will allow us to facilitate any new requirements and make adjustments where necessary. We need you to be honest and be assured that all information you disclose will kept in a confidential manner. With your help we can continue to run FSS with your individual needs and requirements at the forefront. We want to thank you for participating in the questionnaire.
F.S.S calendar
We want to introduce new opportunities to F.S.S, to ensure that everyone is kept up to date, we will be sending out a monthly calendar. It will have all classes, Trips, speakers attending FSS, and other one-off activities. Please tell us what you would like to participate in so that we can arrange the class or event and any transport that's needed. We understand that letters can be a struggle so we are currently setting up a mailing system for you to be able to receive any information in your preferred format; audio, braille, email or by post.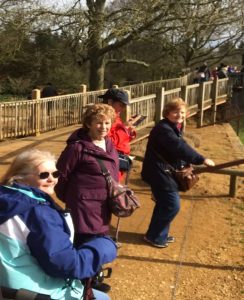 We are pleased to announce that we can now re-open our ear suctioning appointments!
The first appointments are available on Friday 12th May 2023 and will be the 2nd Friday of the month thereafter.
The costs are:
Both ears £70
One ear £50
There is a £20 consultation fee if no suctioning is required.
These appointments must be pre-booked on 01594 827711.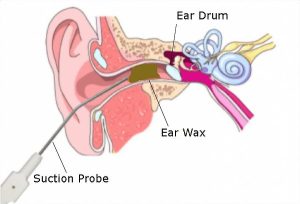 Another adventure was completed!
This eve our owl's group went to 'jump Newport trampolining.
Another activity ticked off the list and was enjoyed by all.
Thanks again to all volunteers for helping us to support our clients to participate in activities, they may have never participated in before